Astronomy Gifts for Star-Gazing Kids
Steve Fentress, director of the Strasenburgh Planetarium at the Rochester Museum & Science Center, was kind enough to provide KidsOutAndAbout with a list of astronomy-themed ideas for gifts for kids who love everything about space exploration.
Binoculars and telescopes
Reputable companies:
Both companies will ship anywhere and have online catalogs. (Steve also says that he is sure there are other reputable suppliers out there, it's just that he has had a good success rate with these two.)
Orion even has a whole section devoted to Best Telescopes for Kids. 2014 prices range from $29 for a hand-held telescope to $65 for a table top reflector telescope to $129 for the Orion SpaceProbe 3AZ Reflector Telescope and starter kit. Their Astronomy Binoculars range from $59 to about $350.
Astronomics has a page that gives an excellent overview of astronomy binoculars here.
You can quickly get to both of these web sites. Both offer advice on selecting binoculars and both offer at least one pair that's relatively inexpensive. The nice thing about binoculars is that you can use them to look at all kinds of things, and they're easy to grab or carry around on a whim.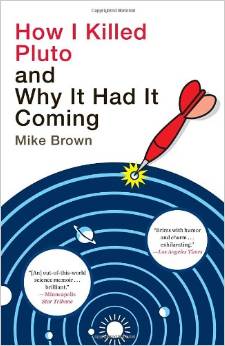 Books
There are two kinds of astronomy books: the kinds you read straight through from beginning to end, and reference-type books. 
Mike Brown's terrific book How I Killed Pluto and Why It Had It Coming is the kind you read. (Note from KOAA editor: My middle-school-aged daughter loves Mike Brown's work.)
I also recommend The Friendly Stars, a little book written over 100 years ago by Martha Evans Martin and still available as a Dover Publications reprint. Martin writes about individual stars making their appearances in their proper seasons almost in the format of a nature journal. Some of the science is out of date, even in the revised version, but she'd understand that.
Galileo's Daughter, by Dava Sobel, is a beautiful look at Galileo's life, with a female perspective, and not too long.
For reference books that kids and adults love to thumb through, any of the astronomy guidebooks by Terence Dickinson will be a solid product.  He also has a beautiful 2015 Astronomy calendar.
Videos
Among video series, you could investigate the vast catalog of NOVA and other PBS-type science videos -- those you can watch online, so it's not exactly an under-the-tree kind of gift. The DVDs of Neil deGrasse Tyson's Cosmos are available to purchase, 

There are several video astronomy courses in the Great Courses (formerly Teaching Company) lineup. I liked Sean Carroll's course on the dark universe. Always look for sale prices from this company. There are no astronomy videos from this company with female lecturers, which is too bad.
I've seen some women who are really inspiring when speaking informally--astronaut Sunita Williams and astronomers Natalie Batalha and Andrea Ghez come to mind --but they haven't done formal video lecture series or popular books, unfortunately. They should. (Hint, hint!)
Magazines
For younger explorers and beginners, Steve recommends Astronomy magazine.
For more intermediate-level astronomy buffs, Astronomer Alycia Weinberger, staff scientist at the Carnegie Institution of Washington, recommends Sky and Telescope magazine as a great gift. She also cautions parents against purchasing too inexpensive of a telescope, as those can be extremely frustrating to use and may even turn off aspiring astronomers. 

---
© 2014 KidsOutAndAbout.com