Can You Really Correct Your Vision While You Sleep?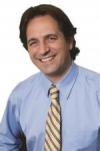 What is Corneal Molding and Can It Benefit My Child?
by Dr. Julio Arroyo, O.D.
Yes, you can correct your vision while you sleep without surgery, without contacts, and without glasses.
What is corneal molding?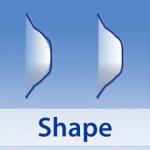 Modern orthokeratology, also called Ortho-K or corneal molding, is one of the greatest advances in optometry. Ortho-K allows a large number of people with vision problems (such as myopia, astigmatism, farsightedness and presbyopia) achieve clear vision, free of glasses or daily contacts. This innovative technique has evolved from refractive lenses in the sixties to today's digital technology.
Corneal molds are custom-fit, high permeability contacts and are created by mapping the eye using computerized topography and measuring the thickness of the cornea. Once made, the corneal molds use natural lens pressure in just the right places, promoting the redistribution of tissue - without damage. This causes a change in curvature of the cornea and thus corrects the patient's vision.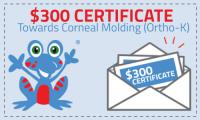 Does corneal molding hurt?
Actually putting in a corneal mold is very similar to putting in contacts. The degree of initial discomfort varies depending on the patient, but in the vast majority of cases, even that quickly disappears. In addition, these lenses are only worn while sleeping. Since the discomfort is related to eyelid flicker, with eyes closed the symptoms are minimal. As an added benefit, when you have them in you can still see clearly in case you wake up in the middle of the night.
Is corneal molding an expensive treatment?
Final cost depends on the complexity of the case, the refractive defect, as well as the patient's age. Overall, the price is usually between 25% and 50% less expensive than the surgical option or Lasik.
Am I a good candidate for this treatment?
Children and adolescents (aged 9 to 21 years) are the best candidates for corneal molding. Not only can they eliminate the need for glasses and contacts, but corneal molding is the ideal choice to slow down and even stop the myopic progression in younger patients which leads to increasingly thick lenses. Rigorous recent studies show that corneal molding (Ortho-k) may be effective in preventing progression of myopia in children and youth with myopic progression.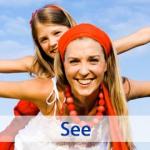 Does corneal molding actually work?
Doctors are continuing to discover new information about changing corneal curvature and thereby correcting and improving vision. There is consensus, however, that tears play a fundamental role. The hydrodynamic forces generated by the tears and the corneal mold work on the corneal curvature during sleep. That is, with eyes closed, they encourage the corneal tissue surface to migrate into the correct position causing a change in corneal curvature.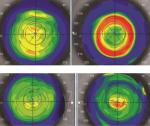 How soon can I see without glasses once starting treatment?
The process is usually relatively fast. In myopia of 3.00 diopters or less, 20/20 vision is achieved after only one night. At higher myopia, and hyperopia, the molding process often relatively slower. This process is reversible, so that the cornea returns to its original shape if you discontinue wearing the corneal molds.
What are the advantages of corneal molding compared with other options?
Good question! The advantages of non-surgical corneal molding are many, but basically it is an alternative with minimal eye health risks. Here are a few great reasons:
MODERN TECHNOLOGY: Ortho-K is a very predictable technology and is approved by the FDA for use in children, adolescents, and adults. Unlike Lasik, new design and manufacturing protocols allow multi-focal corneal molds to be built. This aspect is important for patients with astigmatism and for presbyopic patients (with difficulty seeing close-up).
COST: The initial investment for corneal molding is about ½ that of Lasik. This opens the door for many more people to enjoy its benefits. In addition, the molds can last for up to five years, saving the repeated cost of glasses and contacts.
NON-SURGICAL: The Lasik procedure requires a cut in the cornea which s

evers nerves that regulate tear flow. Often this leads to dry eye syndrome that causes bu

rning and stinging. Corneal molding is non-surgical. There is no anesthesia needed, it is not permanent and that is a plus for those who avoid surgery at all costs. If the prescription changes then the mold can easily be adjusted.

PRE-ADULTS: Kids who are active in sports can be great candidates for Ortokeratology. The risks of corneal molding is equivalent to that of wearing rigid contact lenses. Corneal molding (Ortho-K) is therefore an option for all ages, but children and teenagers are the ones that benefit the most from this treatment. It frees active people to enjoy all kinds of activities and outdoor sports like soccer, swimming and going to the movies without worry and without the risk of surgery. In addition, corneal molding is the best way to prevent nearsightedness from getting worse. This treatment not only improves nearsighted kids' present quality of life but also affords a better future by preventing myopia from getting worse.
Tweet this article to your peeps! Click one of these for a ready-made tweet...
~~  SPECIAL FOR KIDSOUTANDABOUT READERS ONLY!  ~~
You're in for a treat if you've read down this far. Dr. Arroyo and his staff are offering a $300 discount for corneal molding! Click here to get the voucher. Print it out and schedule your appointment today.
---

        Dr. Julio Arroyo, O.D.
 invites you to call his office to discuss whether Corneal Molding is right for your child...or for yourself! He says often parents bring their children in and then want the benefit of no surgery, no contacts, and no glasses too. The team at Eye Health Consultants are ready to help you determine if Corneal Molding is right for you. Call them to schedule a no-cost consultation.  
www.correctyourvisionwhileyousleep.com
          Eye Health Consultants focuses on a caring and compassionate eye care. Dr. Arroyo has over a decade of professional experience in the eye care industry. Dr. Arroyo is an Ortho-K certified specialist. Orthokeratology, also known as Vision Shaping Treatment, Corneal Refractive Therapy, Corneal Molding, Non-surgical Vision Correction and Accelerated Ortho-K. Ortho-K is not new but the results and the efficacy of the myopia eye treatment have never been better. Corneal Reshaping Therapy is a revolutionary technology that allows the right candidate to free themselves from glasses or contacts while awake.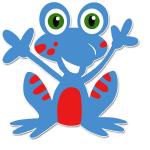 1111 Medical Plaza Dr., Suite 110
7007 North Freeway, Suite 125