Sarah Heinz House Summer Programs
---
*The event has already taken place on this date: Fri, 08/07/2020
---
Sarah Heinz House is pleased to be able to offer modified summer programs starting June 15th for both Pre-K and school-age (up to having just finished 6th grade) youth. Youth will engage in a variety of recreational activities, including swimming, playing in our two gyms, and STEM, at our Northside facility Mon-Fri; sessions last two weeks and we provide both pre and post-care options for parents who need additional childcare outside camp hours.
---
Please help us keep this calendar up to date! If this activity is sold out, canceled, or otherwise needs alteration, email mindy@kidsoutandabout.com so we can update it immediately.
---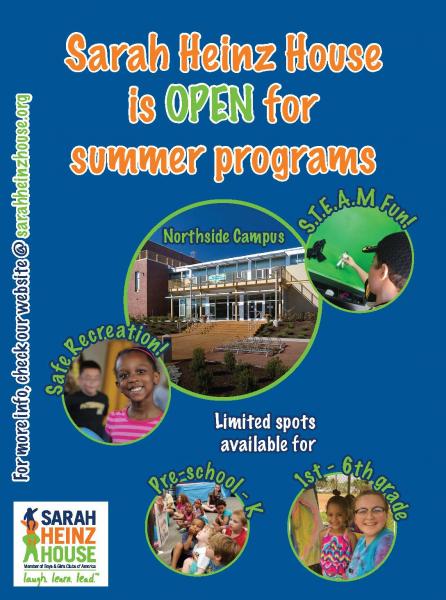 ---
*Times, dates, and prices of any activity posted to our calendars are subject to change. Please be sure to click through directly to the organization's website to verify.
---
Location:
Sarah Heinz House Association 1 Heinz Street
Pittsburgh
,
PA
,
15212
United States
The event has already taken place on this date:
Time:
Pre Care begins at 7:30 AM, Post Care ends at 5:30 PM, Camp begins at 10:00 AM
Price:
Prices vary for session and membership level
Ages
All Ages