Why the World Would End If Earth Friendly Products Disappeared
by Diana Palmentiero
Okay, so maybe the world wouldn't exactly end (not right away, that is) but it will end one of these days especially if people don't start caring about the environment. One way that I try to help protect the Earth is by using house cleaning products that are healthy for my family and healthy for the environment. In fact, I make some of my own products using ingredients like lemons, vinegar and baking soda. My husband has joked that he doesn't know whether to spray our cleaner on the counters or on a salad! Having said all that, I was so happy to receive 2 boxes of Earth Friendly cleaning products recently. They included kitchen cleaning products, laundry products, and baby cleaning products including laundry detergent.
Earth Friendly's Mission Statement
On their website, their mission statement claims to  "provide [our] customers with products that will provide efficacy, value, and are environmentally-responsible. We will never test on animals or use animal ingredients in our products. And we will conduct our business in a socially responsible manner that safeguards the earth, and all its inhabitants." For someone like me that is wonderful news! Since I haven't used store-bought cleaners in a few years, I was willing to give these products a try.
In case you are wondering why I use green cleaning products, one reason is that many cleaning products contain ingredients such as 1.4-Dioxane and/or phosphates. In the case of dioxane, it has been classified by several organizations, including the Environmental Protection Agency, as a probable human carcinogen. That's not something I would like to use in my cleaning products, especially around my young children. Although phosphorus is found naturally in ecosystems, too much of it can make the air and water polluted. For me, it's a no brainer to use household cleaning products, like Earth Friendly products, that are free of dioxane and phosphates. They freely disclose all of the ingredients used in their products.  So, if you are like me and have started to use more environmentally friendly products that are safe for your family, then you should check out Earth Friendly products!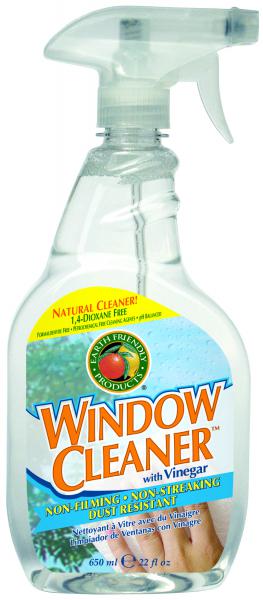 Products that were tested
For this review, we tested Earth Friendly's Dishmate, Window Cleaner with Vinegar, Parsley Plus All Purpose Cleaner and their Pet Stain & Odor Remover.
1.    Pet Stain & Odor Remover - Our cat, Einstein, is quite a hairy cat. With a lot of hair comes a lot of hairballs. Recently when he coughed one onto the carpet, I used Earth Friendly's Pet Stain & Odor Remover immediately. It was fantastic! It cleaned the hairball right away without a stain. Another rug cleaner I had used left a stain.
2.    Dishmate - Recently my mother came to visit, and like most mothers, she pitched in to help out around the house. She washed many dishes, with Earth Friendly's Dishmate. Although she liked the almond smell, she thought that she had to use a lot of the Dishmate to get things clean. I tried to explain that it didn't have the harmful ingredients, like sodium lauryl suflate, which just make the other dishwashing detergents soapier, but not necessarily more effective. As for me, I'd prefer to use a little more cleaner than soak my hands in detergent that could cause cancer, skin irritation or endocrine disruption. But that's just me.
3.    Window Cleaner with Vinegar - The description on the Earth Friendly website is 100% accurate. This product did not streak or leave a residue on my mirrors. It was one of my favorites to use.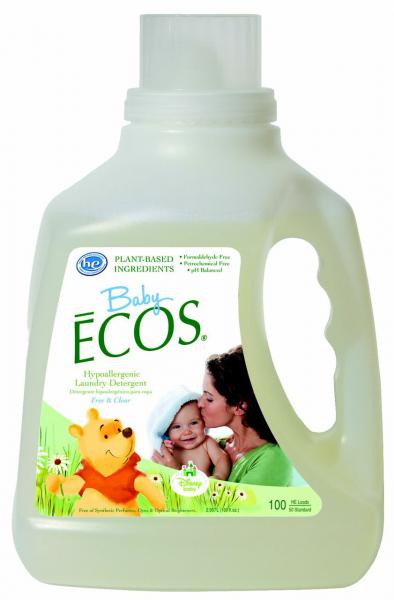 4.    Parsley Plus All Purpose Cleaner - The last product that I used for this review was the Parsley Plus All Purpose Cleaner. I was a little skeptical when I read that it would smell like parsley but it was a wonderful, fresh scent. You can use it almost anywhere (and I did) and it smelled great! It also worked like a charm! I highly recommend it.
5.    Baby Products - A friend of mine who recently had a baby was kind enough to try some of Earth Friendly's baby products. One product she used was the Free and Clear Liquid Laundry detergent. She said it did a good job cleaning her son's clothes. (And we all remember how difficult that can be.) She also used the Baby ECOS Bottle & Dishwash Cleaner which she really liked as well.  She said that it got all of her son's bottles very clean with no suds. For her, less suds meant it was safer for her son. She also liked the Baby Ecos Toy & Table Top Cleaner, especially since it had no harmful chemicals in it and no horrible smell.  
In 2014, Earth Friendly was named one of the Healthiest Companies in America to work for by Greatist.com, which tells me that they really are trying to change the world for the better. I'm happy to support a company like this because they care about their employees, the earth and our children. So, let's hope their products don't disappear anytime soon. We need their products and their company! For more information on Earth Friendly products or where to purchase them, check out their web site at www.ecos.com.
---
© 2016, KidsOutAndAbout.com
Diana Palmentiero is an editor at KidsOutAndAbout.com and lives in Fairfield, CT with her husband and 2 young children. Her husband was happy to be able to clean the house with products that he would not use on his salad.